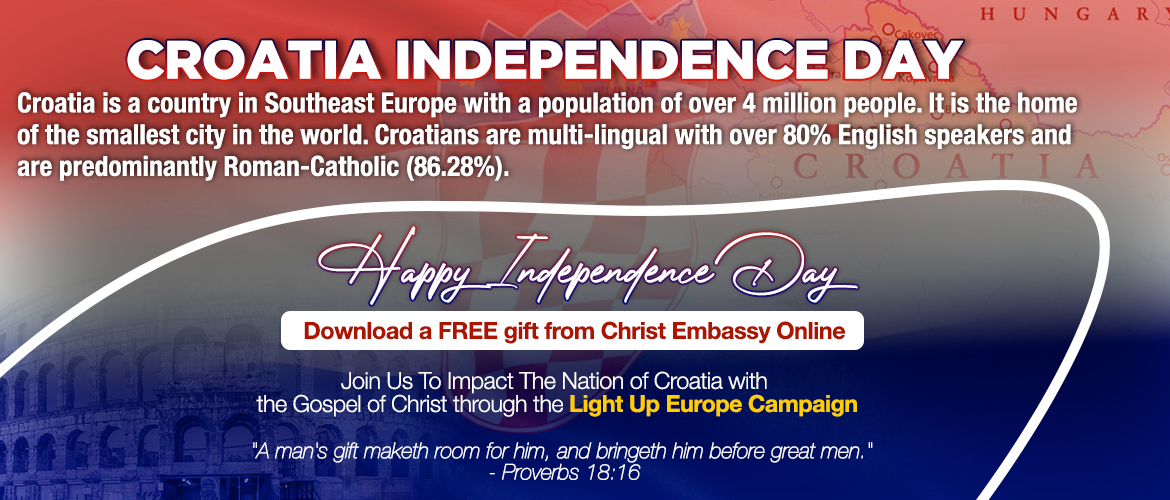 Light Up Croatia
With over 7.7 billion people in the world today, take a stand and be God's outstretched arm to impact souls through the global outreach campaign. Join us and save lives by sponsoring for hope, love, and salvation. Our goal is to reach every tribe and tongue where there is an established need in the language they understand and to facilitate the missionary work of the Gospel in regions without the limitation or barrier of language.
Light Up Slovenia
Read Testimonies
GEORGE LAGUDAH FROM PORTUGAL

"I am grateful to God to be a part of the Christ Embassy Online and share God's word online. It's a big opportunity for excellence."
Read more
Luke 10:2
"- And he said unto them, Go ye into all the world, and preach the gospel to every creature."
Read Testimonies
AHKERE IHIONKHAN FROM SWEDEN

"Wow wow! What a word I have this received morning. I made up my mind to rejoice in the Lord always. Kaba zakama… Blessed be God who has blessed me with all spiritual blessings. Glory!!!! This is wonderful, the word of God is so true that when you start putting it to work by talking and speaking the word of God to any circumstance, it will change. I am so blessed with Christ Embassy Online Missions; you made me know Christ and have an understanding of God's love towards me. Thank you Pastor Sir."
Read more
Receive Christ Now
Share Your Testimony
Give Towards this Campaign
International Payment Option
Give Here
Nigerian Payment Option